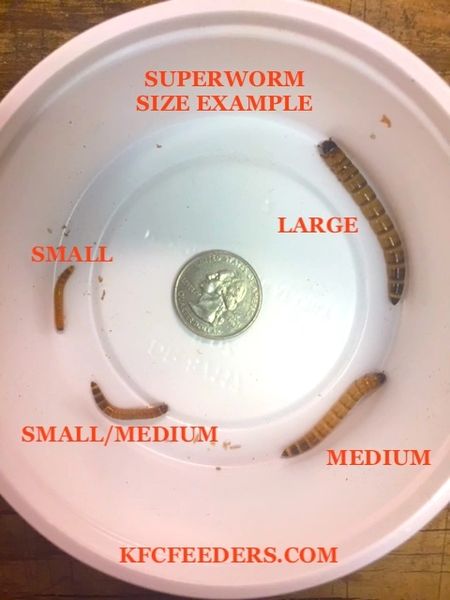 CONTENTS
1000 SMALL TO SMALL/ MEDIUM MIXED SUPER WORMS
1 POUND OF WORM BEDDING
1/2 POUND OF WORM CHOW
1 EGG FLATT FOR CLIMBS AND SECURITY.
KIT CONTAINS THE GOOD STUFF TO GROW OUT YOUR OWN SUPER WORMS TO A SPECIFIC  SIZE OR TO LARGE AS THEY GROW.
JUST MIX THE BEDDING AND FOOD IN YOUR OWN TUB /CUT THE EGG FLAT TO FIT OVER 1/2 OF THE TUB FOR CLIMBING  AND SECURITY.
ADD CARROTS AND POTATOES AS NEEDED FOR HYDRATION.
RECOMMEND A TUB AT LEAST 1.5 SQUARE FOOT OF BOTTOM AREA TO GROW OUT TO LARGE SIZE.  16 X 12 TYPICAL SWEATER BOX AT WALMART WORKS JUST FINE FOR UP TO 1000 GORWN SUPERS.