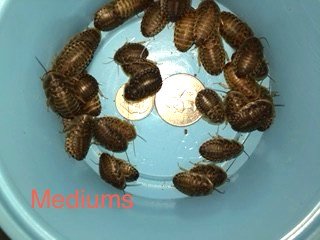 THIS COMBO INCLUDES THE FOLLOWING ITEMS.. SUPER DEAL !!
1000 MEDIUM DUBIA 5/8 TO 3/4 INCH SIZE

1000 SMALL DUBIA 1/4 TO 3/8 INCH SIZE
100 COUNT CUP BSF CALCI GRUBS
500 SMALL SUPER WORMS
1/2 POUND OF OUR SUPER CHOW FOR THE SUPER WORMS AND DUBIA TO GUT LOAD BEFORE FEEDING YOUR REPTILES.