MEDIUM DUBIA 5/8 INCH TO 11/16 SORTED SIZE (CUPPED IN DELI-CUPS)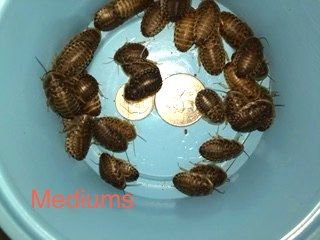 OUR MEDIUM SORT APPROX 5/8  TO 3/4 INCHES IN LENTH  
SOLD BY WEIGHT WITH A APPROXIMATE COUNT SHOWN WITH EACH WEIGHT OFFERING.
YOU WILL GET A CONSISTENT WEIGHT WHICH IS WHAT REALLY MATTERS TO YOUR PET. 
IT'S NOT THE NUMBER OF BUGS YOUR PET EATS THAT MATTER ITS THE GRAMS (WEIGHT) THAT GO INTO THIER TUMMY.
WE INCLUDE EXTRA WEIGHT TO COMPENSATE FOR SHIPPING ISSUES THAT SOMETIMES ARISE.
THIS SIZE IS IDEAL12-16 WEEK OLD JUVENILE BEARDED DRAGONS