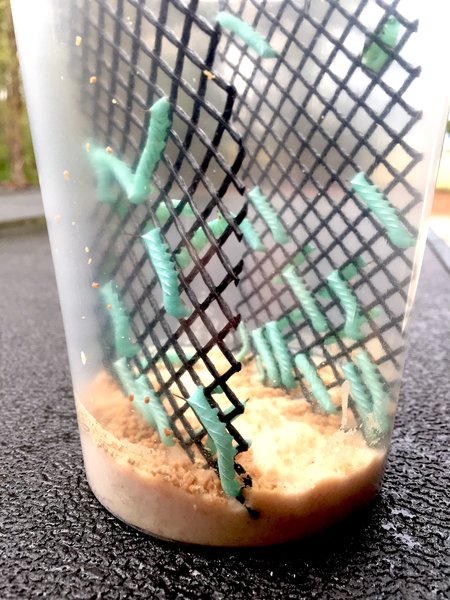 24 COUNT CUP ( MINIMUM 24 WORMS AVERAGE BETWEEN 26-28 PER CUP) SIZE RANGE ENOUGH FOOD TO GROW APPROX 1.5 INCHES

ADD FOOD TO ORDER TO GROW OUT TO FULL SIZE IF NEEDED.
SEE OUR FAQ PAGE FOR FOOD PREPARATION INSTRUCTIONS .
For maximum growth keep at 82-85 degrees but can be cooled down to 55 degrees ( wine cooler, basement room ect.) to slow down growth. If worms are at desired size and you are unable to feed them you can place them in a 45 degree refrigerator for 48 hours and take them out for 24 hours to stop growth and maintain viability.
After receiving your cups. Place the cup food side up, the worms will crawl to the food and the feces will drop to the lid for easy cleaning. Make sure to provide air flow to the lid for adequate ventilation.