DUBIA STARTER COLONY 200 A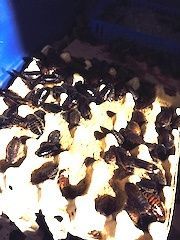 200 A KIT INCLUDES AS FOLLOWS;
3 EGG FLATTS FOR HARBORING AND CLIMBING
1 OZ SAFE WATER HYDRATION CRYSTALS ( MAKES 1 GALLON WET )
1 POUND OF OUR PREMIUM ROACH CHOW
5 YOUNG ADULT FEMALE DUBIA SEXUALLY MATURE
3 YOUNG ADULT SEXUALLY MATURE MALE DUBIA
75 MIXED NYMPHS SMALL TO LARGE TO GROW OUT YOUR COLONY. 
CARE SHEET TO HELP YOU TO BE A SUCCESSFUL BREEDER.   
KIT 200 A IS IDEAL FOR THAT 1-2 PET HOUSEHOLD COMPARATIVELY  1-2 BEARDED DRAGON OR 2-3 OF ANY SPECIES SUCH AS GECKO, CHAMELEON, SIZED HERP.
IF YOU HAVE MORE THAN 2 BEARDED DRAGONS WE RECOMMEND KIT 300 A OR HIGHER.