SMALL SIZE DUBIA KRITTER TUBE-- DUBIA BY THE GRAM TO GO-- NO TOUCH DISPENSING SYSTEM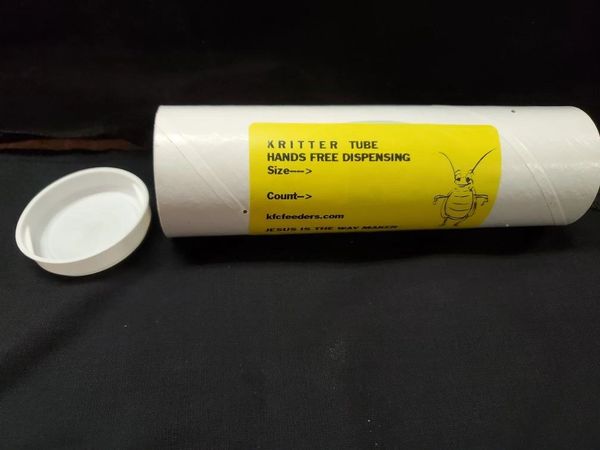 KRITTER TUBE (dubia) TUBE DISPENSING SYSTEM....................
THESE ARE OUR SMALL 1/4 - 3/8 INCH SIZE
PICK THE WEIGHT OF ORDER  WHEN ORDERING SYSTEM
THIS PRODUCT IS SOLD BY WEIGHT IN GRAMS ( WE INCLUDE AN APPROX COUNT FOR EACH OFFERING AS WELL )
YOU WILL GET A CONSISTENT WEIGHT WHICH IS WHAT REALLY MATTERS TO YOUR PET. 
IT'S NOT THE NUMBER OF BUGS YOUR PET EATS THAT MATTER ITS THE GRAMS (WEIGHT) THAT GO INTO THIER TUMMY.
WE INCLUDE EXTRA WEIGHT TO COMPENSATE FOR SHIPPING ISSUES THAT SOMETIMES ARISE.
For those who do not like to handle feeders this works great.
Pop the top and shake the tube at a 45-60 degree angle until required number is dispensed into your favorite reptile enclosure.
Then just pop the top back on for later feedings.
Use baby carrot, and sprinkle of our Premium Chow to keep your feeders in the tube gut loaded and hydrated.